Stupidity Refined
The world has changed. Too many idiots are occupying it. This calls for a culling. I'd say grouping them together at the same place and let a meteor do the job. But like Crim said it "Let it be random just to be fair". Here, stupidity refined. Read, and tick if it applies.

Causes of stupidity:
Doctor's mistake of slapping the head instead of butt of the newborn.
Mom pushed too hard and doctor/nurses can't fetch in time. CRASH.
Rolling down a staircase as a kid and hitting the head on every single step all the way down.
Head stuck in freezer as a kid, causing brain to stop moving very often through out the years.
Buying a mousepad/poster that says "Knock Head Here" and practice what it says.
Types of stupidity:
Drive-stupid:

Stopping at a junction. See car coming fast. Take the turn when the oncoming car is 2.5 cock hair away.
Common sense-stupid:

Told that guy's got guns. Go harrass guy with Yo Momma jokes. Shot. Die.
Toilet ethics-stupid:

Hello, can you smell your shit in the toilet and go fuckin' flush it down the fuckin' bowl before I make you eat them up?
Eat-stupid:

Feel the taste of the mee goreng isn't right, continue eating. Go home. Lau sai.
School-stupid:

Didn't do homework/assignment. Really tell teacher it got eaten by dog.
Work-stupid:

Skip work, call in sick. Go clinic. Tell doctor "

I got AIDS and need MC

"
Fame-stupid:

Steven Lim, period.
Tech-stupid:

"

Can I download AMD Phenom and then install to upgrade my Pentium 4?

"
Game-stupid:

Played same level for 2,376,920 times. Still fail. Go tell everyone the game is cheating.
Sports-stupid:

Arsenal fan in jersey watching Arsenal-Liverpool in Kops-packed mamak. Arsenal score. Jumps and shouts "

LIVERPOOL SUCKS!!

". Lights out.
Love-stupid:

Guy kacau girlfriend. Grab guns. Drop plans after watching Discovery Channel's Crime Detective.
Law-stupid:

Trying to do a drive-by shooting at a police road block.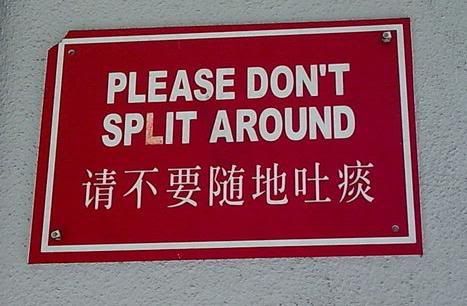 And last but not least....


Internet-stupid:

"

My mama pawn your papa

", "

NO, my papa pawn your mama

". And they end up having 2 stupid retarded kids like you arguing on the internet when it comes to the topic "

Roti telur or Roti bom better?

".
Labels: Tulan